2023 Stroke Play Championship
2023 Stroke Play Championship
Competitor Attending Alone
$2,125
Competitor and Non-Golfing Spouse
$2,875
Competitor and Golfing Spouse
$3,850
Situated amid thousands of acres of stunning scenery and hushed seclusion in Central Florida, Streamsong is a one-of-a-kind golf destination created in complete harmony with its natural surroundings. The uniqueness is immediately unveiled from the very moment you arrive and the memories you make here will surely last a lifetime. A quiet place far from the concrete, crowds, and chaos. Here you will experience the only place in the world with Coore/Crenshaw, Doak, and Hanse/Wagner designed courses in the same location and all in the Top 50 in the U.S. along with a modern lakeside lodge offering spacious, luxurious accommodations, outstanding dining, a relaxing spa, and an array of exhilarating outdoor adventures unmatched in Florida.
"The landscape is different than anything we've ever worked with. Some of the most unusual, interesting and dramatic land forms we have ever encountered, from its towering dunes, sandy fields, and pristine lakes." — Bill Coore
Play Video
GOLF AT STREAMSONG
All golf rounds

Carts

Range
Prizes

Opening Reception and Dinner

Closing Awards Lunch
Breakfast Daily for Non-Golfing Ladies

Cocktails and Canapes Monday and Tuesday Evenings
Forecaddie Fee is Not Included

To be paid directly in cash daily, suggested at $50 per player
Since opening experienced biologists, botanists, environmental engineers and committed hospitality professionals have done more than just reclaim this formally mined land; they have improved it. A bold vision that started just over a decade ago now helps support the local economy creating over 450 hospitality-related jobs, and protecting the land, water and wildlife – all paramount to the resort's ongoing operation, now stewarded by KemperSports. Streamsong is a place where individuals and organizations can accomplish things of value and return renewed.
The transformation of this unique landscape gave rise to a one-of-a-kind golf destination now known around the world as a place so aptly named – Streamsong. No highways, no houses or condos, no obstructed sunrises or sunsets. Just the sights and sounds, the flora and fauna, the water and wind of natural Florida.
Tournament details
Courses
Red Course
Black Course
Blue Course
Format
Individual Stableford
Awards
Top Gross and Net scorers
Rounds
3
Holes to be played
54 holes
Tournament rounds shall be played at Streamsong Resort (Red, Black and Blue Courses).  Trophies or merchandise credits will be awarded for the top finishers. All men's play will be Gross and Net Stableford, the maximum scores for any hole will be gross double bogey and net double bogey. A Division is available for Players Age 70+ with the option to play Forward Senior Tees with both Gross and Net Stableford Scoring.
Ladies play will be Gross and Net Stableford, the maximum scores for any hole will be gross double bogey and net double bogey. Ladies also have the option to participate in social golf only with no competition.
Streamsong Resort is in an isolated location in central Florida and while there are no nearby sightseeing destinations, the Resort does offer a full-service spa and non-golf activities such as fishing, archery and sport shooting.
DAY
Sunday, December 10th
Welcome Reception and Dinner
Streamsong Resort Hotel
Monday, December 11th
Morning Starting Times for Men and Ladies
Men – Black Course
Ladies – Red Course
Early Evening Cocktail and Canapes
Streamsong Resort Hotel
Tuesday, December 12th
Morning Starting Times for Men and Ladies
Men – Blue Course
Ladies – Black Course
Early Evening Cocktail and Canapes
Streamsong Resort Hotel
Wednesday, December 13th
Morning Shotgun Start for Men
Red Course
Awards Lunch for All Attendees Immediately Following Golf
Pegasus Room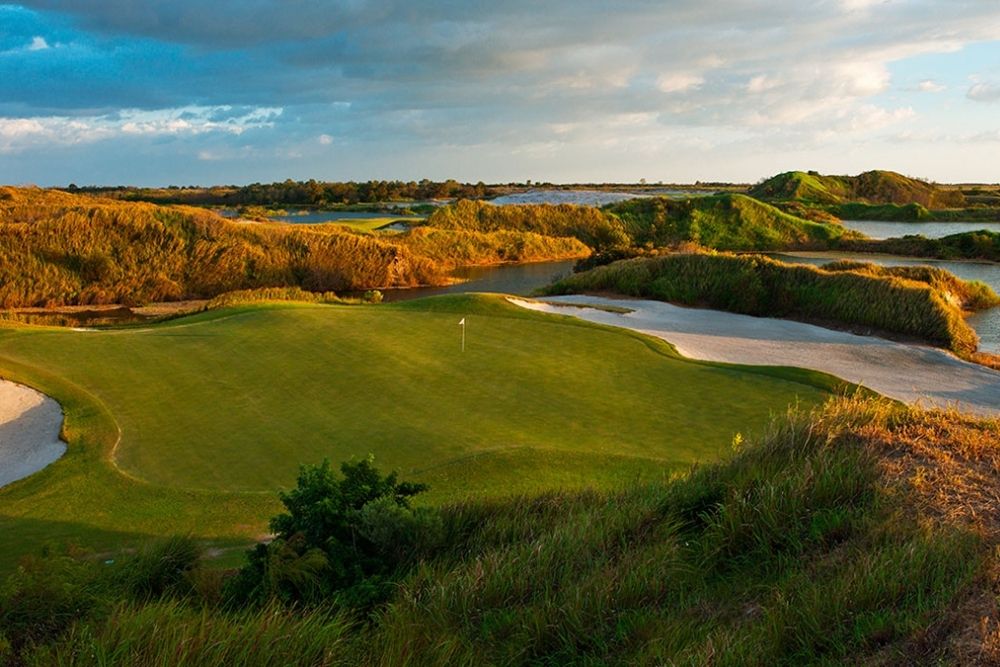 Accommodation
Streamsong Resort Hotel
The host hotel for the 2023 ASGA Stroke Play Championship will be the Streamsong Resort in Bowling Green, Florida. We are pleased to note that Streamsong will offer ASGA Members a special rate from $350/night +tax and Resort Fee for run of house Lodge Rooms, single or double occupancy. Upgraded rooms may be reserved at additional costs based on availability.
ASGA has a limited room block, to make reservations please call Streamsong at (844) 207-8079 and reference the ASGA Room Block.
VIEW HOTEL
Modern, stylish, and meticulous in detail, the Streamsong Lodge and Streamsong Red and Blue Clubhouse are architectural masterpieces featuring 228 spacious guestrooms and suites, all thoughtfully appointed with rich linens, plush furnishings, and modern amenities to help ensure no element of your stay is overlooked.
To great anticipation and excitement, Streamsong officially opened its doors on January 26, 2013. Since then, the awards and accolades for the resort and three golf courses — Streamsong Red, Streamsong Blue, and Streamsong Black — have continued to come in from across the country and around the world.
Streamsong Resort
Championship
Golf
A highlight of the 2023 Stroke Play Championship will be our experience competing on three exceptional courses.
Streamsong sits among the greatest golf destinations in the world with 3 top 100 courses and the highest-rated golf collection in all of Florida. Streamsong offers a golf experience like no other, in a setting that's like nothing you've ever seen. Thanks to seamless integration of indigenous and awe-inspiring terrain, Streamsong's three spectacular courses stretch across a landscape that belies their central Florida locale. Instead of flatland, you'll find towering sand dunes and unexpected contours, without a distraction or intrusion insight. It's just you, your friends, and the game you love. The way golf was meant to be.
Golf Architecture's most iconic firms
Streamsong Golf Resort is the only location in the world where players can experience three distinct golf courses designed by the legendary architecture minds—Bill Coore and Ben Crenshaw, Tom Doak, and Gil Hanse and Jim Wagner. Streamsong Red (Coore/Crenshaw), Streamsong Blue (Doak) and Streamsong Black (Hanse/Wagner) are three of the most highly acclaimed and widely pursued golf courses in the game today. Revered by golfers as a bucket-list destination, Streamsong Golf Resort rivals the greatest golf ven­ues in the world.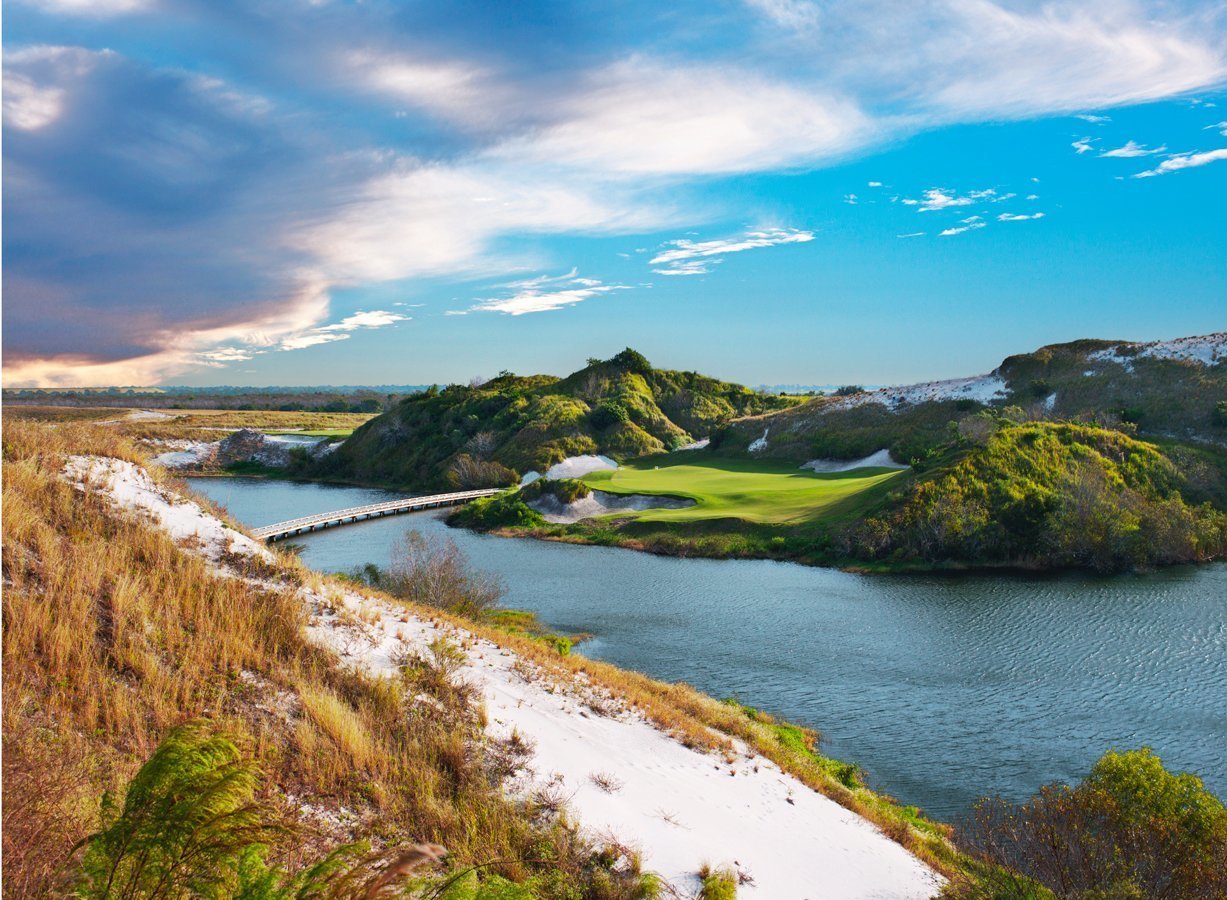 Red Course
"The landscape is different than anything we've ever worked with. Some of the most unusual, interesting and dramatic land forms we have ever encountered, from its towering dunes, sandy fields, and pristine lakes." — Bill Coore
Black Course
"The scale and shape of this landscape and the creative design features we were able to incorporate into this layout make Streamsong Black a fun and strategic course to play" — Gil Hanse
Blue Course
"This is such a good piece of land for golf. The variety of contours created by the mining process is unique for a project in Florida–or anywhere in the Southeast." — Tom Doak