2024 National Two Man Team Championship
We invite all ASGA members to join us for the 2024 National Two Man Team Championship in Verona, New York to be hosted at The Turning Stone Resort.
We have an incredible week scheduled and we hope that you plan to join us there.
If you have any questions, please don't hesitate to contact Kevin at kevin@asgagolf.org.
VIEW SCHEDULE
Tournament details
Golf Courses
Atunyote Golf Course
Kaluhyat Golf Course
Shenendoah Golf Course
Tournament Format
Better Ball of Partners
Awards
Top Gross and Net scorers
Number of Rounds
3
Holes to be played
54 holes
Players shall be members in good standing of the ASGA or guests age 50+ of a member in good standing.
The committee will arrange groups each day and there will be a competition between each foursome, best ball of the group gross and net. There will also be individual awards, both gross and net stableford, for those ladies who wish to complete their rounds each day and turn in a score. This format has been very well received at the last few events as it is enjoyable for the many different ability levels represented by our players.
DAY
Sunday, July 14th
Welcome Cocktail Reception and Dinner
Turning Stone Resort
Monday, July 15th
First Round of Men's and Ladies Golf
Shenendoah Golf Course
Evening Cocktail Reception at Turning Stone Resort
Tuesday, July 16th
Second Round of Men's Golf and Final Round of Ladies Golf
Atunyote Golf Course
Evening Cocktail Reception at Turning Stone Resort
Wednesday, July 17th
Men's Final Round
Kaluhyat Golf Course

Accommodation
Turning Stone Resort
The outstanding Turning Stone Resort offers a number of different accommodation options, including The Lodge and The Tower where ASGA Rooms are held.
Drawing inspiration from Frank Lloyd Wright's iconic Prairie Style architecture – America's first true signature style – The Lodge's elegantly remodeled interior and expansive exterior views of the Great Lawn and gentle rolling hills beyond blend masterfully into one. That harmonious feeling flows throughout the resort into newly reappointed, all-suite rooms. Floor-to-ceiling windows and fresh color schemes that blend masterfully with the architecture also help bring the outdoors in. Opulent carpeting, spacious walk-in showers, soaker tubs and plush robes add to the luxurious feel.
Rising proudly above the gentle hills and old-growth hardwood forests of Central New York is The Tower at Turning Stone, one of the region's most iconic landmarks. This award-winning high-rise hotel offers sweeping panoramic views of the countryside – the place where it fondly draws inspiration for its well-appointed rooms. Rich hardwood floors, crisp white quartz countertops, vibrant turquoise accents and opulent metallics create a refined, welcoming décor. Spacious rooms invite you to linger longer, while captivating artwork from CNY photographer Don Cochran celebrate some of the region's most beloved landscapes like Letchworth State Park, renowned as the Grand Canyon of the East, as well as the Finger Lakes and the Adirondacks.
VIEW RESORT
Championship
Golf
Three world-class golf courses highlight our visit to Turning Stone Resort – Atunyote, Shenendoah and Kaluhyat.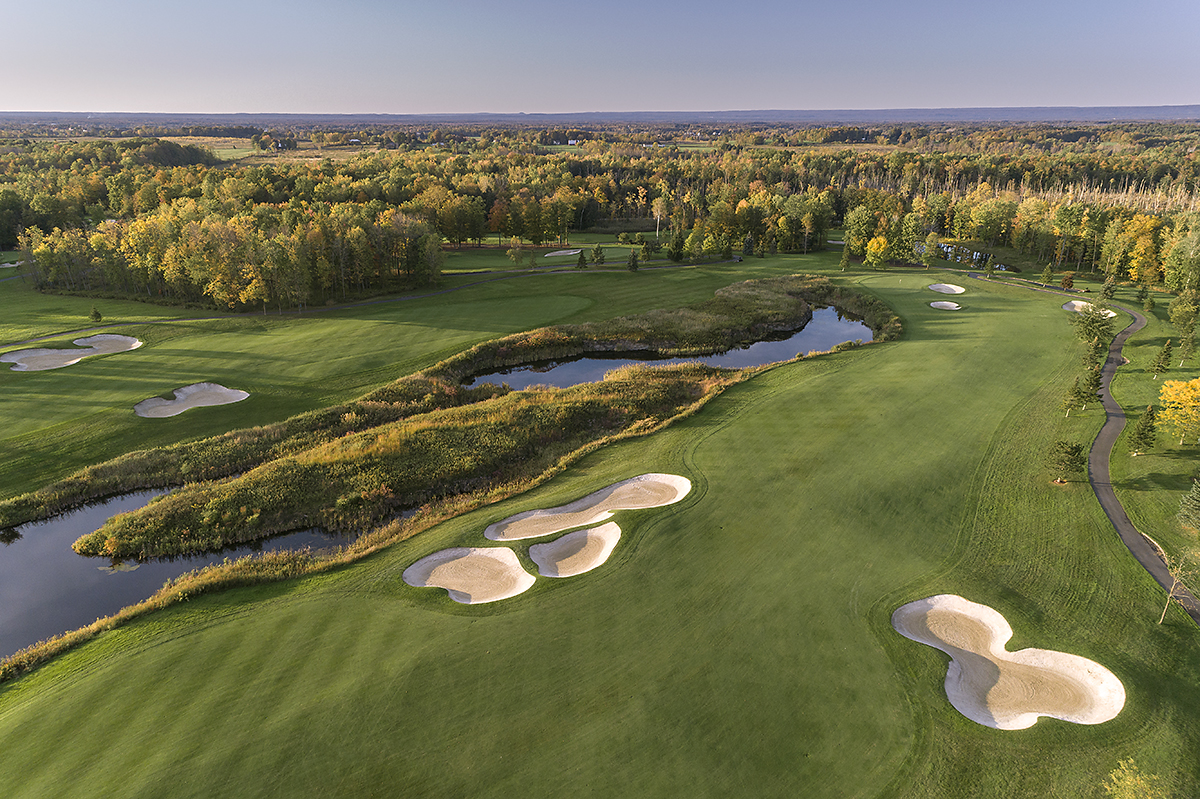 Atunyote Golf Course
This Tom Fazio design was home to the Turning Stone Resort Championship from 2007 – 2010. In 2006 it was the site of both the PGA Professional National Championship and the BC Open. The parkland setting of Atunyote (the Oneida word for 'eagle') features vast stretches of open space, gently rolling hills, a stream of small waterfalls, and several lakes. Walk the fairways that past champions have all walked.
Shenendoah Golf Course
Shenendoah offers 18 holes of PGA-level golf in a spectacular natural setting. The course was built and is maintained to comply with stringent Audubon International standards for environmental protection and preservation. Designer Rick Smith used the natural landscape to create wooded parkland holes, open pastures that capture the links feel, and beautifully simple low country-style holes. Designed, constructed and maintained to TOUR standards at more than 7,000 yards, the course offers conditions normally reserved for TOUR professionals. In 2006, Turning Stone Resort Casino's Shenendoah was host of the PGA National Club Professional Championship.
Kaluhyat Golf Course
Measuring in at just over 7,100 yards, this Robert Trent Jones, Jr. course is ranked as a Top Casino Course by Golfweek. Kaluhyat (the Oneida word for 'the other side of the sky') is marked by dramatic changes in elevation, measuring as high as 50 feet in some areas, with plateau settings offering seemingly endless, spectacular views of the surrounding terrain. Six lakes throughout the course add to the picturesque setting. Kaluhyat is a classic shot-maker's course, where accuracy and strategy are rewarded as much as length.